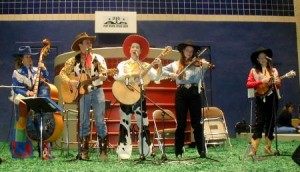 OUR 'COW'LENDAR – OUR SCHEDULE. HERE'S WHERE WE ARE GOING TO BE. Y'ALL COME SEE US!
Performances in 2006: It's always the works, folks. Check back often for new performance locations!
On Monday, June 12, Woody & Jessie will be outstanding in their field . . . well, out standing in the parking lot of the Fort Worth Museum of Science & History! 5:30p-9:30p Check with the museum for info -this is a private fundraiser.
On Saturday, July 1st, Jessie will ride as Honorary Grand Marshall of the Rodeo Parade in Prescott, Arizona!! 9am (. . . that's ARIZONA time, y'all!)
PAST PERFORMANCES:
On Wed. 5/10/06 Jessie came up to Cook's Children's Hosp ital for a western party to help present of hats to the kids there!
On Friday, April 7th, 2006, Jessie yodeled fer the kids at Bransford Elementary in Colleyville, TX!
There was once a little school house on the prairie, yep-it was Prairie View Elementary in Rhome, TX . . . when they had that there "Bluebonnet Book Reading Western Party" on January 30th, '06, -MAN! -Woody 'n Jessie really kicked up their heels!!
Back on January 26, 2006, Jessie helped them pre-schooler's eat their Chuckwagon lunch at the Fort Worth Presbyterian Day School. Mmmmm <):-)
It was January 21st, back in '06, when we did a Woody-Jessie show for the Homeschool Kids' Chili Supper in Azle, Texas.
On Friday, Jan. 9,2006, Jessie went over to see the buckaroos and buckarettes at R.E. Good Elementary in Carrollton . .. by crackey!
It was on Thursday, 11/17/04, when Jessie first strode them learned halls of Country Day School . . Fort Worth!
On Friday 11/4/05, Jessie took a bow at the elementary school in Tombstone, AZ during the 3rd Annual Tombstone Western Music Festival! giddyup.
On Sunday, August 21st, 2005, there was benefit show held for Miss Jenny Dunaway at FUMC Euless, TX and Jessie performed there at HIGH NOON!!
On Monday June 20, there was a Jessie sighting at the SW Branch Library, Ft. Worth, Texas!
On Friday, June 17, 2005, Jessie was leadin' them dogies at Vacation Bible School, for the First United Methodist church of Hurst, Texas. Whoa there, for the "Circle G Ranch"!!
Whew! – it sure was hot, but Jessie had 'em clappin' & singin' along at Hickory Creek on Sat. June 11, 2005.
There was a Jessie show at 4:30pm on May 27, 2005, at El Colorado Lodge, Manitou Springs, Colorado
On Friday, May 6th, Jessie was seen warblin' in Cherokee, Texas, at the OLD WEST TRADE FAIR!
Sat 4/16/05 All afternoon Jessie kicked up some dust at the Columbia River Cowboy Get Together in Tri-Cities, Washington!
On Sat. 4/9/05, Jessie was helpin Miss Southlake, Cristie Kibler, raisin' money for "Pink Ribbons & Rhythm . . . Music for a Cure" at Carroll Baptist Church!
On Wednesday, March 30, Jessie set them coyotes to wailin' at the Marti Elem in Cleburne, TX!
Sat. 1/8/05 sshhh! -private:
Jessie was doing a birthday party somewhere in Fort Worth!
On Mon. Jan 24th, Jessie was bein' filmed for Texas Country Reporter at the Fort Worth, Stockshow!
On Sunday, December 12, 2004, Woody & Jessie did a live show in Stockyards Station with Radio Disney!
2004:
On October 2, Jessie & the Cowgirls came to St. Elizabeth school in Keller
On Saturday, May 22nd,2004 ya had to catch Jessie at the Hickory Creek Folk Art & Music Festival -man! -what a mighty wind blew that day!! -NO, not Jessie! It was a blustery day on Lake Dallas, with 40 knot, gale force winds!
Saturday, August 28, 2004 Jessie went back to Los Angeles for a foot-stompin' good time at Autry Museum's 'Old West Fest'! -and NO fires this time!!
On Tuesday, April 27, 2004, Jessie & The Cowgirls
galloped over to Corinth Elem., in Lake Dallas, near Denton to sing, pick & yodel for the kids!
Thursday, April 1, 2004 was Author's Day at Marti Elem.in Cleburne, TX (NO FOOLIN'!!)
Jessie & the Cowgirls performed two shows, for the 3rd & 4th grades, and 1st & 2nd grade kids. Go WRANGLERS!!
Did ya come see Jessie & The COWGIRLS at 1pm, on Saturday, March 27 , 2004 in Gene Autry, OK?
It was a benefit for Gene Autry Museum!
Monday, March 22, 2004 Jessie took a turn at Flagstaff, Arizona's "Coconino Center for the Arts" for the Mountain Charter School kids, just back from spring break (Aww-ya didn't MISS IT!!??)
On Thursday, March 18, 2004, Jessie blew into Animas, New Mexico on a horse called 'Whirlwind', and did
shows for the kids at Animas Elementary. Go PANTHERS!!
(located at Hwys 338 & FM 9)
Friday, March 12, 2004
Cartersville, Georgia Boy Howdy! Jessie flew to Atlanta
for the "Georgia Cowboy Gathering" She and Ginny Mac had fun with the kids at Mission Road, and Kingston County Schools!
It was Friday, March 5, 2004 If you were at Heritage Elem in COLLEYVILL (GCISD) you'd have seen Jessie with the kids at their 'Six Flags' luncheon for the 2nd graders Jess sure did appreciate their EMPHASIS ON TEXAS HISTORY!!
On Monday, February 2,2004 Woody, Jessie & The Cowgirls
did the BEST EVER show for the Jo Kelly Special Ed kids!!!
Thursday, January 29, 2004 At First Presbyterian Day School, we had a rip-roarin'Chuckwagon lunch at HIGH NOON, during Fort Worth's Rodeo Week
On Tuesday, January 20, 2004 Jessie rounded 'em up fer
Heritage Elementary's 'Rodeo Week' in Keller, Texas!
On Monday, January 26, 2004 We were all kickin' up the dust pickin' at Fort Worth Stockshow for Campfire Tales at the West Arena
Monday, January 12, 2004 Woody, Jessie, & The Cowgirls ALL turned out for the young'uns at Grapevine Christian School.
Fri. January,9th there was a JESSIE sighting at Nash Elementary, in downtown Ft Worth!
On Saturday, Dec. 20th, 2003 Jessie corraled the dogies with Radio Disney HO-HO-HO-Down at Lakewood Country Club.
Sat. 12/13/2003 news flash! At Dallas Country Club Jessie was spotted doin' another Radio Disney "HO-HO-HO-Down!!
Friday, Dec. 12, 2003 from 5:30 to 8:30p Jessie did the holiday thing "HO-HO-HO-DOWN" with Radio Disney at the KBMG Building in Downtown Dallas Corp Holiday party!
Saturday, November 1, 2003 – At the Western Oklahoma Cowboy Gathering, Jessie sang among the rocks & trees
in Red Rock Canyon State Park, Hinton, Oklahoma. The kids were hangin' upside down IN the trees!
Saturday, October 25, 2003 Los Angeles, California
Autry Museum of Western Heritage Western Music Festival
The kids sure had fun with Jessie at the Children/Family Show on the South Lawn Stage, and we sure had a hot time at the old corral, since most of southern California was on fire at the time! Bless 'em!!
Sunday, October 12, 2003 Saginaw, Texas WOODY, JESSIE, & THE COWGIRLS did one show at Saginaw Train and Grain Festival, right by the Saginaw Rodeo Arena Complex
Sponsored by Saginaw Area Chamber of Commerce
(Gee . . . is this about Saginaw . . .?)
Saturday & Sunday, September 27-28, 2003 Tulsa, Oklahoma
Jessie was at the Tulsa State Fair, and she's plumb tuckered out!
On Friday, September 26,2003 Jessie appeared at 1:00pm
at the Gene Autry Museum for Gene Autry Festival
in Gene Autry, OK (Gee . . . I think it's all about Gene Autry . . .)
Monday, September 22, 2003 Jessie entertained the young'uns at Lake Dallas Primary school.
Saturday, September 13, 2003 Jackson Hole, Wy.
for the "Jackson Cowboy Jubilee"! Jessie did a kids' concert at 1:30pmin the Main Stage Theater, and boy did we have fun!!
Sunday, April 13, 2003 "Woody, Jessie & the Cowgirls" were at the Memorial Civic Center Banquet Hall in Lubbock, Texas. Proceeds benefitted National Ranching Heritage Center. Much obliged <):-)
Saturday, April 5, 2003 "Jessie" was at the beautiful
Buffalo Bill Historical Center in Cody, Wyoming for
"Cowboy Songs & Range Ballads" the great music & poetry festival!
Last March 11-15, 2003, it was spring break in Terlingua, Texas (si, si!) and "Woody, Jessie, and The Cowgirls" wowed 'em at Big Bend Motor Inn & RV Park!
Friday, February 14, 2003 "Woody, Jessie & The Cowgirls"
did a special show for Crossroads Baptist in Azle, Texas
YEE-HAW!! ('n Amen!)
Tuesday, January 21, 2003 "Woody & Jessie" sang 'n yodeled for the kids in the Grand Atrium at Cook's Children's Hospital for the "Peter Pan Birthday Club" party!
Monday, January 20, 2003 "Woody, Jessie, & The Cowgirls"
kicked up some dust in the cattle auction arena during
"Campfire Tales" in the West Arena/Richardson-Bass bldg.
at Fort Worth Stockshow 2003!
Sunday, December 8, 2002 "Woody & Jessie" held a Radio Disney "HO HO HO Down" in downtown Fort Worth at the "T"
(Intermodal Transportation Depot), servin' up a heapin' helpin' of Christmas cheer, as folks gathered to
take the Christmas Lights Tour. Brrr-it was sooo cold 'n rainy, but we stayed wram with extra yodeling!!
Saturday, December 7th, 2002 Woody joined with the gathered crowd in the City of Farmers Branch – Along with the crew from Radio Disney for another Radio Disney "HO HO HO Down!
On Friday, December 6, 2002, during 'Celebrate Colleyville!', Jessie led the parade, startin' at the middle school, ridin' Bullseye through the streets of town, to City Park at the end of the trail, where folks enjoyed a concert with "Jessie & The Cowgirls"! It was hosted by Scott Murray, and Jay Jensen at Radio Disney's HO HO HO Down!!
On November 17, 2002, Jessie crossed the blue Pacific Ocean, to perform with Riders In the Sky, on their 25th Anniversary Hawaiian cruise aboard the "Norwegian Star"!! Boy, Bullseye, gettin' across that stretch o' water sure was one mighty tall jump! Giddyup.
November 14-16, 2002, Jessie appeared at Sam's Town in Las Vegas, Nevada during the 14th Annual Western Music Association International Festival, . .
On November 2nd, 2002, Jessie joined Jay Jensen and all the Radio Disney gang for an "Aftergame Party" at Ford Stadium/SMU in Dallas, from 6-8pm.
Sunday, October 13, 2002 Woody, Jessie & The Cowgirls did one show at the Saginaw Train & Grain Festival
Saginaw Rodeo Arena Complex. Sponsored by Saginaw Area Chamber of Commerce Saginaw, Texas
Sunday, September 29, 2002 Woody, Jessie, & The Cowgirls had a rip-roarin' time at the Old Settlers' Reunion Hall
Alvarado, Texas
Saturday, September 21, 2002 JESSIE appeared at the BIG D&D Farm & Ranch Store in Hockley, Texas. That's near Houston, folks!
Saturday, August 30, 2002 Cheyenne, Wyoming "JESSIE & the Cowgirls" show 'em how at the Cheyenne Cowboy Symposium & Celebration!
On Sunday, July 21 Woody and Jessie did two GREAT shows 1:30 & 3:30pm in Amarillo, Texas at the American Quarter Horse Assoc. Heritage Center!
Monday, July 15, 2002 Woody & Jessie had two Shows at Southwest Branch of Arlington Library, THEN "Woody, Jessie, & The Cowgirls" hit the stage the Central Unit, aka 'George Hawks Public Library'.
Thursday, July 4th, 2002 Cleburne, Texas. From 10-12noon, "Woody & Jessie" rode in the INDEPENDENCE DAY PARADE with Radio Disney, the did a show on the shores of Lake Pat Cleburne.
Thursday, June 27 10am Azle Public Library had a
special appearance of "WOODY, JESSIE, & the COWGIRLS"!!!
The program was sponsored by The National Cowgirl Museum
& Hall of Fame.
Wednesday, June 26, 2002 Jessie appeared at Woodland West/Arlington Library Branch. Yodel-loh-oo-tee!!
Saturday, June 8, 2002 WOODY & JESSIE rode in the PARADE for the Grand Opening of the National Cowgirl Museum & Hall of Fame! -in the west side "museum district"
Fort Worth, Texas.
Sunday, December 9, 2001 Fort Worth Stockyards National Historic District. Woody, Jessie, & the Cowgirls did a Radio Disney "HO HO HO Down" at Stockyards Station.
November 2001 Sherman, Texas Our first Woody & Jessie show together with Radio Disney was at Midway Mall in Sherman, Texas. Yeee-haw!!! and Santa rode with us!